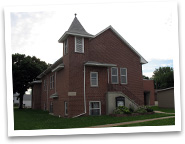 We are a Bible-believing, gospel-preaching Baptist church in the beautiful town of Dysart, Iowa. We invite you to come worship with us as we preach God's truth through His Holy Word.


Ongoing:
Weekly Lamplighter Bible Studies: 6-7 PM Sundays in Buckingham (Titus & Philemon); 6:15-7:15 AM Men's Bible Study at Norma Anders Public Library, Dysart (James); 7-8 PM Tuesdays in Dysart (Romans).
Weekly 7 PM Wednesday Nights: Study of our Confession of Faith – Come learn why we should believe what we say we believe.
Sunday, November 2nd
Communion in AM; Daylight Savings Time: Set clocks back 1 hour (Fall back).
Friday, November 7th
6 PM Party @ Pastor's: All invited to enjoy an evening of appetizers & fellowship; All food provided.
Saturday, November 8th
9 AM Teen Service Activity at IRBC w/ Pizza Ranch supper.
Wednesday, November 12th
6 PM Deacons; 7:30 PM Board Meeting.
Friday, November 21st
10 AM Sunnycrest Devotions & Crafts.
Friday-Saturday, November 21-22nd
Back on Track Youth Rally @ Ankeny: All teens invited.
Sunday, November 23rd
Thanksgiving meal after AM; Afternoon Service; Christmas Offering for Missionaries; No PM Bible Studies.
Wednesday, November 26th
No Prayer Meeting in light of Thanksgiving.