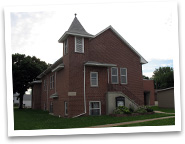 We are a Bible-believing, gospel-preaching Baptist church in the beautiful town of Dysart, Iowa. We invite you to come worship with us as we preach God's truth through His Holy Word. 


Saturday, April 5th 
Church Cleaning/Workday (10 AM-1 PM with lunch).
Sunday, April 6th

Board Meeting after AM.
Tuesday, April 8th
CBC serving Senior Citizen Dinner.
Wednesday, April 16th
No Prayer Meeting in light of Good Friday Service.
Friday, April 18th
10 AM Sunnycrest Devotions & Crafts; 7 PM Good Friday service with Communion.
Sunday, April 20th
9:30 AM Easter Breakfast (no Sunday School).