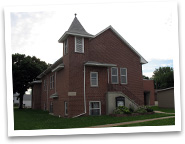 We are a Bible-believing, gospel-preaching Baptist church in the beautiful town of Dysart, Iowa. We invite you to come worship with us as we preach God's truth through His Holy Word.


Ongoing:
Weekly Lamplighter Bible Studies: 6-7 PM Sundays in Buckingham (Titus & Philemon); 6:15-7:15 AM Men's Bible Study at Norma Anders Public Library, Dysart (1 Timothy); 7-8 PM Tuesdays in Dysart (Romans).
Weekly 7 PM Wednesday Nights: Study of The Stranger on the Road to Emmaus: Come get an overview of the Bible & a thorough understanding of the Gospel while being equipped to lead a Stranger Study with anyone in your life.
Friday, February 20th
10 AM Sunnycrest Devotions & Crafts; 7 PM FBBC & TS Chorale Concert: All invited to come enjoy an evening of great music sung by godly young men & women from Faith Baptist Bible College Chorale.
Sunday, March 1st
Communion & Baptism in AM: Celebration of the Ordinances.
Friday, March 6th
6 PM Family Fun Night: Sports Theme; Come dressed in your team colors or sports attire to enjoy a fun-filled night
of sports food, activities, & team spirit!
Wednesday, March 11th
6 PM Deacons; 7:40 PM Board Meeting.
Friday, March 20th
10 AM Sunnycrest Devotions & Crafts.
Saturday, March 21st
Church Cleaning/Workday (10 AM-1 PM with pizza)
Friday, March 27th
6-11 PM Teen Banquet; Song Leader & Speaker Pastor Greg Gosnell; Theme: Quieting Your Soul; All Teens invited to come be challenged from God's Word & enjoy friends, food, & fun!